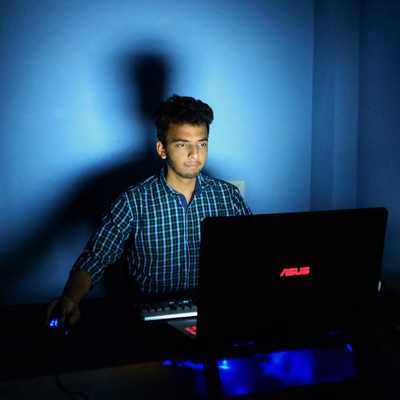 Aditya
Jain
I am a highly competent IT professional with a proven track record in Full stack development, networking & cyber security. I have strong technical skills as well as excellent interpersonal skills, enabling me to interact with a wide range of clients. I am eager to be challenged in order to grow and further improve my skills. My greatest passion is in life is using my technical knowledge to solve the critical problems in order to help other peoples and organizations.
My Story
Ever since I was a little kid, Hacking has been my passion. I still remember sitting in front of my Pentium dual-core computer, with the browser open, trying to pop my first XSS alert "1337" for the very first time. As I went through the various tutorial, it was almost magic, being able to manipulate the website, just by typing in these funny little symbols. Throughout middle and high school, I latched on to any ideas for projects I could get, to learn & understand the working websites, with dozens of projects in between, I learned HTML, CSS, JavaScript, C, C++, PHP. Tearing through any books I could find on anything remotely related to Hacking, Web development, or software development. I was insatiable.
This passion carried me through my education at the Indore Institute of Science and Technology. Here, there were more resources available to me than I ever could have imagined as a kid. I studied new languages, algorithms, compilers, higher mathematics, all with pretty much the same fascination that drove me as a kid. And it was here that I learned truly how much there was yet to learn.
So, now, this passion remains with me. There's certainly yet more to learn, yet more problems to solve, and yet more to build. And for this, I am very grateful.